Read Time:
8 Minute, 9 Second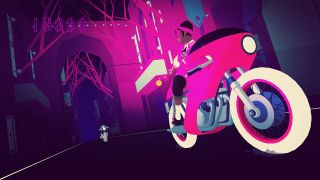 (Image credit: Simogo)
Apple Arcade is going to change the way that you think about mobile games. If you own an iOS device, it's hard to even make an argument against signing up for the subscription service; for just $4.99 / £4.99 a month, you can get access to close to a hundred high-quality, time-destroying games that will transform your commute and the way that you interact with your phone during those rare moments of downtime. With such a wide variety of titles available, working out what the best Apple Arcade games to download and play first is proving to be easier said than done.
To be honest, it's a little overwhelming. The range and variety of games being offered through Apple Arcade is surprisingly broad. There's games from famed studios like Capybara Games (Below), Ustwo (Monument Valley), and Simogo (Year Walk), as well as a host of new titles from a variety of ambitious teams looking to make a mark. I've spent a couple of days with Apple Arcade and below you'll find my recommendations for the best Apple Arcade games to download and play first. Of course, part of the fun of Apple Arcade is that with such a huge selection of games available it's well worth taking a dive into the Apple Arcade games list yourself and seeing if there's anything that catches your eye.
We'll be sure to update this list of the best Apple Arcade games to download first over time, especially as there's plenty more games coming to the service in the coming weeks. For now, here's my top picks of titles that have impressed me so far and that you can download right now.
Assemble With Care
Assemble With Care is a simplistic, poetic puzzle game from Ustwo, the studio that brought you Monument Valley, with a story exploring the notion that the only way to truly put something back together is to first strip it apart. Through the restoration of 12 objects, Assemble With Care reveals itself to be a tactile and touching experience, using light puzzles as a way to draw you into a wider rumination on repairing fractures in the fault-lines of family relationships. Ustwo's painterly artwork is gorgeous, the soundtrack and voice acting soothing, and the presentation – blurring the lines between audiobook and interactive entertainment – is wonderful, and perfectly placed for mobile.
RECOMMENDED VIDEOS FOR YOU…
video playing

Top 10 PS4 Games To Play In 2019 (So Far)

02/04/19

10 Essential Devil May Cry 5 Tips To Know Before…

08/03/19

Top 10 Nintendo Switch Games To Play Right Now

10/01/18

Top 10 PS4 Games To Play Right Now

05/01/18

12 essential Crackdown 3 tips you should know…

14/02/19
Grindstone
It's easy enough to forget, but before Capybara Games helped change the landscape of mobile adventure games with Superbrothers: Sword & Sworcery EP in 2011, the studio was known for developing puzzle games. In many ways, then, Grindstone – a smartly conceived and expertly executed game of sword slashing puzzle battles – sees Capy returning to its roots. It's bright, colourful, and difficult to walk away from, which is exactly what you want from a game such as this. Grindstone also comes complete with an intuitive crafting system, a delightful progression structure, and over 150 levels designed to test your capacity for unleashing monster-hit combos and crashing through increasingly challenging stages. Grindstone is designed for commutes, but it'll have your attention whenever you find yourself with a little downtime.
Jenny LeClue
Make way for CSI: Cuteness. Don't be fooled by the adorable illustrated style of this adventure game, it's packed with mystery and mechanics that are worth the price of Apple Arcade admission all on their own. Miss LeClue is a young girl with a taste for investigating, and that means a mix of searching crime scenes, interviewing suspects and witnesses – using Sherlock Holmes style observations to tease out information – and making deductions. The cosy world of the game is packed with interesting characters, like conspiracy theorist CJ, and there's a knowing humour to the whole thing that will remind you of great adventure games of yore like The Curse of Monkey Island.
Mini Motorways
Mini Motorways is intrinsically perfect. The same could be said of its predecessor Mini Metro, the game that showcased developer Dinosaur Polo Club as the masters of rendering time inert. The premise of Mini Motorways is about as simple as its mechanical execution. It's a game about drawing roads that can help drive the expansion of a growing city. You start by establishing a small network of roads, which will quickly blossoms into a bustling metropolis built of stress and flashing icons. That's the genius of Mini Motorways; it's a game that's pretty zen to play – easy to lose yourself too, to be soothed by – but it quickly becomes a complex web of meeting the changing demands of its vehicle-bound populous. If my boss didn't make me write this list, I'd be playing Mini Motorways right now – join me, won't you?
Sayonara Wild Hearts
Simogo made a name for itself as one of the most ambitious and inventive mobile developers, thanks to its work on titles like Year Walk, Device 6, and SPL-T. Unsurprisingly, the studio is back and better than ever; Sayonara Wild Hearts is an interactive music video, a vibrant cacophony of high-octane races and dance-battle action. It's overtly stylish in its design and subtly stunning in its execution of a drama – of breaking your heart at a 100mph. This is a game that is, frankly, out of this world. Sayonara is the sort of game that you'll be able to get through across both ends of your commute, but come back to replay day-after-day. The self-described "pop album video game" is available on a variety of platforms, but it just feels right on iPhone.
Where Cards Fall
Alto's Odyssey developer Snowman makes a strong introduction on Apple Arcade with its most ambitious title to date. Where Cards Fall is a beautiful exploration of adolescence, all told through an array of spatial puzzles and serene flashbacks to a life half lived. Where Cards Fall has you building pathways through dreamlike environments with stacks of cards; it's intuitive and imaginative, a game that tests your capacity for strategic thought as much as it does your ability to flow with dynamic puzzles. It's relaxing and challenging  in equal measure, the type of game built for those times where you just want to get headphones on and shut yourself out from the noise of the world for a little.
Overland
A post-apocalyptic road trip from Finji, the studio behind influential endless runner Canabalt and publisher of Night in the Woods. Overland is a turn-based strategy game at its core, where your task is to ensure the survival of a small group of travellers against an array of otherworldly threats. Overland gives you a fair amount of space to define the parameters of your own adventure, leaving you free to decide how to proceed through each and every disastrous scenario that you stumble into. Leveraging your need to search for supplies and navigate routes to safety, with the desire to save other stranded survivors, Overland is a smartly structured strategy game that you'll find yourself coming back to time and time again.
Mutazione
I'm going to hit you with the elevator pitch and you should know in an instant whether this is for you or not: Mutazione is a mutant soap opera where small-town gossip meets the supernatural, a super chill game about raising plants and embarking on spiritual journeys after the end of the world. Mutazione is a weird adventure game that's quite unlike anything else in the Apple Arcade library. Its style is its own, a lush, hand-illustrated world full of interesting folks that you'll be desperate to get to know. Plant gardens to create relaxing musical soundscapes, and, when you're ready, embark on a story full of twists and turns. Mutazione is serene, in its own little way.
Cricket Through the Ages
One of the most overtly obscure games to land on Apple Arcade so far, Cricket Through the Ages is a history lesson told through the medium of the titular sport, because why wouldn't it be? Best enjoyed with a friend fighting with you over a single screen, Cricket Through the Ages has you swinging bats and throwing balls to make it through the intertwined history of humankind. It's a one-button game that finds the fun in exploiting an off-kilter physics system, a game that delights in thrusting you through an increasingly-bizarre array of situations and scenarios. Cricket Through the Ages will have you laughing whether you play it on your own or with a friendly foe, revelling in its own simple absurdity.
Bleak Sword
An Apple Arcade exclusive from Devolver Digital and More8Bit, Bleak Sword will have you wishing you never subscribed to the service in the first place, albeit in a good way. For those of you among us that are fans of being pushed to the limit by challenge, in fact, Bleak Sword will be a dream come true. An isometric adventure through a world that feels intent on breaking you, this dark-fantasy action game requires pixel-perfect precision to strike enemies down and come out of scrapes alive. Bleak Sword won't be for everybody, but it's well worth a try, just to see how well these types of games can work on mobile devices. Oh, and it's scored by famed composer Jim Guthrie – come for the soundtrack, stay for challenging chaos Bleak Sword revels in unleashing.