Read Time:
4 Minute, 25 Second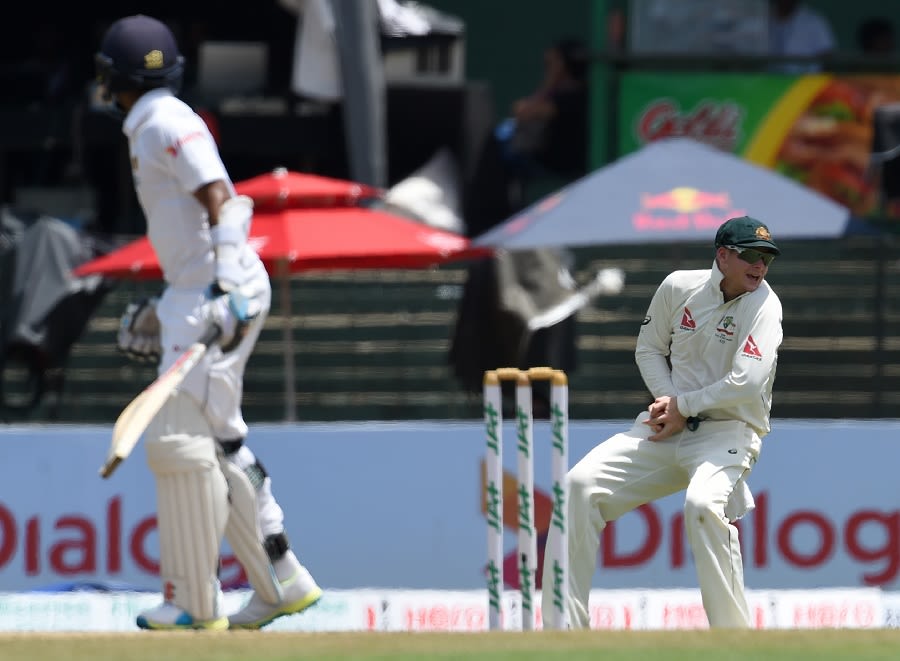 Steven Smith
Andrew McGlashan, deputy editor
There are few better sights in cricket than a packed slip cordon – well, maybe it's just me. But does this feel like a golden era of slip catching? I'm not going to delve into the percentage of dropped catches right here, but the gut feeling is no. A recent social media poll by our digital gurus posed the question of the dream cordon: Darren Gough's was Ricky Ponting, Mark Waugh, Jacques Kallis and Andrew Flintoff. It's an all-timer, for sure.
The best of the current players? I've gone for Smith, who snaffles them pretty safely, and sometimes spectacularly, either against the quicks or the spinners (when he isn't standing too deep and getting Shane Warne riled up). One of the more recent ones to stick in the memory is a 
full-stretch dive
 to remove Kane Williamson – should there be extra marks for the quality of the batter? – in Perth two seasons ago. Williamson edged Mitchell Starc in a day-night Test with the lights taking hold, and Smith was horizontal at second slip when he took it almost behind him. Would he make an all-time cordon? I might check the replies to that social post.
Ben Stokes
Alan Gardner, deputy editor
There's probably a distinction to be made between great slip catchers and takers of great slip catches. Some of those vying for the all-time cordon pouched almost everything that came their way with soft-handed surety, but may have been less likely to fling themselves bodily for the one-percenters. And if there are fewer in the never-drop-a-chance category these days, perhaps it's because the modern cricketer is more likely to get close to ones that would have zipped straight through in the past.
Anyway, while Stokes does put down more than the odd one, there's no doubting his ability to pluck 'em from thin air – and it's spectacular snags that do it for me. Exhibit A is, of course, the Aussie-scuppering, #OhMyBroad-inspiring, claw-assisted snatch of Adam Voges' outside edge from fifth slip at Trent Bridge in 2015 – aerial, horizontal, behind him. But we've subsequently discovered this is just what Stokes does. See 
four grabs in a day in Cape Town
 (three of them full length, one an absolute screamer), or a regulation flying one-hander to dismiss Jasprit Bumrah in Chennai that he barely celebrates.
My other candidate was Faf du Plessis, who might edge Stokes on reliability and could also pull off a worldie but was deemed ineligible having retired from Tests.
Rahkeem Cornwall
Karthik Krishnaswamy, senior sub-editor
It's obviously no hindrance to be a natural athlete, but you don't have to be one to be a good slip fielder. Think Mark Taylor.
Several large men have fielded there – Warwick Armstrong and Inzamam-ul-Haq, to name two – so it's perfectly natural for Rahkeem Cornwall to do so, blessed as he is with bucket hands and the meditative temperament of one who will always let the ball come to him rather than go snatching at it. It's no surprise when he pulls off nonchalant catches like this one, when Rory Burns top-edged a full-blooded square cut his way at Old Trafford, but his unlikely party trick is the low catch, by his bootlaces – surely the most difficult feat for a man of his size to pull off. Have a look at this effort to send back Rashid Khan in Lucknow (at the 17-second mark here), or the famous low tumble to his right to end Mehidy Hasan's resistance and complete West Indies' 2-0 Test series triumph in Bangladesh. Is Cornwall the best slip catcher in world cricket? Who knows? Is he the most fun to watch? Most definitely.
Ajinkya Rahane
Shashank Kishore, senior sub-editor
I wonder if there's a happy coincidence between being a good slip fielder and wearing either a cool floppy hat or a worn-out cap that has absorbed buckets of sweat over the years. Mark Taylor and Mark Waugh come to mind in the 1990s. In the 2000s, it's hard to look beyond Mahela Jayawardene and Rahul Dravid.
My pick from the current era is Ajinkya Rahane. Hat aside, I've picked Rahane because when he stands at slip to the spinner, he makes difficult catches look easy. Look at the ones he took to dismiss Steven Smith in the 
2017 Dharamsala Test
 or 
Adelaide 2020
. Whether Rahane is dealing with the turn of the subcontinent that needs him to stay low or the bounce of Australia and England, which calls for positioning further back, his anticipation, the ability to stay light on his feet to allow him to move either way, and his sound judgment of where he should stand means he takes most chances.