Read Time:
9 Minute, 59 Second
The largest continent on Earth, Asia stretches all the way from the shores of the Mediterranean Sea to the Pacific Ocean. Its vast landmass encompasses everything from epic mountain ranges such as the Himalayas to the dry and desolate Arabian and Gobi deserts. Steamy jungle can also be found in Southeast Asia, as well as paradise islands and beautiful beaches.
In addition to its colossal size, Asia is remarkably home to more than half of the world's population. With so many different cultures and languages for you to delve into, the continent's dazzling diversity defies definition. As each country has its own unique history and heritage, Asia's many natural wonders and hidden treasures could take a lifetime to unravel.
15. Maldives
© dreamstime
Made up of 1,200 or so islands and atolls, the Maldives boasts some of the best and most breathtaking beaches in the world. Nestled away in the Indian Ocean, the glamorous getaway is renowned for its luxurious resorts, many of them with their own private island.
While each idyllic island in the archipelago appears more stunning than the last, the Maldives is also noted for its underwater riches. As such, it is a fantastic place to go scuba diving or snorkeling, with lots of colorful coral reefs and shimmering shoals of fish to discover.
With so many picture-perfect white-sand beaches for you to check out, this serene and secluded honeymoon destination is not to be missed out on.
14. Malaysia
© dreamstime
Consisting of Peninsular Malaysia and East Malaysia, this incredible country is home to some of the oldest rainforest on Earth. Its national parks boast lots of fantastic trekking and wildlife in addition to the marvelous nature and scenery on show.
Very multicultural and diverse, Malaysia's thriving cities and capital Kuala Lumpur are home to Chinese, Indians, and ethnic Malays. Amongst the modern skyscrapers, impressive historical and cultural landmarks can be found, and its restaurants serve up lots of delicious local cuisine.
With you can find idyllic islands and pristine beaches in Malaysia, seeing an orangutan up close in their natural habitat is probably the highlight of any visit.
13. Cambodia
© dreamstime
Tucked away in between Thailand, Laos, and Vietnam in Southeast Asia, Cambodia is awash with astounding historical ruins and archaeological sites.
This is because the mighty Khmer Empire built lots of amazing temples, monuments, and palaces around the country between the 9th and 15th centuries. Of these structures, the undoubted highlight is the awe-inspiring Angkor Wat.
Besides the vibrant cities of Siem Reap and the capital Phnom Penh, Cambodia also boasts plenty of delightful nature. With picturesque paddy fields, jungle-clad mountains, and fabulous tropical islands for you to explore, Cambodia has something for everyone to enjoy.
12. Sri Lanka
© dreamstime
An increasingly popular tourist destination, Sri Lanka is set in the Indian Ocean just off the south of India. While its fabulous beaches are one of its main attractions, the island has a rich history and culture for you to delve into.
As its history dates back around 2,500 years, Sri Lanka has lots of impressive archaeological sites and historic and cultural landmarks to check out. Ranging from ancient temples to colonial-era forts, many of these can be found in the enthralling cities of Anuradhapura, Galle, and Kandy.
In addition to this, Sri Lanka also has some spectacular scenery and incredible wildlife for you to enjoy. Offering up the perfect mix of beaches and culture, history, and nature, Sri Lanka has it all.
11. Oman
© dreamstime
Steeped in history, the Sultanate of Oman's unique culture, traditions, and heritage are visible wherever you go. Indeed, the proud identity of its people and their welcoming nature is in part what makes the country so charming to visit.
Unlike many of its neighbors, Oman hasn't erected any skyscrapers or modernized dramatically. This means its desert oasis towns and the capital Muscat still exhibit lots of lovely old architecture, and their skyline has remained unchanged for centuries.
While its souks and medinas are captivating in their beauty, the country's desolate landscapes are no less alluring. Home to spectacular mountains, a gorgeous coastline, and lots of scenic sand dunes, Oman is a hidden gem just waiting to be discovered.
10. The Philippines
© dreamstime
As the Philippines are made up of over 7,000 different islands, it should come as no surprise to learn that it is a very popular beach holiday destination. Its inviting waters make for some fantastic surfing, scuba diving, and snorkeling, with Boracay and North Palawan particularly great places to enjoy watersports.
While some islands are coated in lush rice fields or tropical rainforest, others are home to hidden lagoons and smoking volcanoes. Dotted about its varied landscapes, you can find chaotic yet colorful cities, such as Cebu and the capital Manila.
The cultural make-up of the country is varied; while traveling around, you'll notice Spanish, American, and traditional influences, amongst others. As you can see, the archipelago has much more to offer than just sun, sea, and sand.
9. South Korea
© dreamstime
The home of K-Pop and Kimchi, South Korean culture is currently very much in vogue around the world. This represents a marked change, as for much of its history, it has been overlooked and outshone by its larger and more powerful neighbors China and Japan.
What makes traveling around the peninsula so fascinating is that the nation boasts a rich and unique history, heritage, and culture. It has, however, modernized rapidly. You'll find centuries-old palaces and temples alongside skyscrapers and gigantic shopping malls.
Deceptively mountainous, South Korea also has lots of marvelous national parks for you to explore, with beautiful islands and beaches hugging the shore. Of these, Jeju Island is the most popular to visit among locals and tourists alike.
8. Vietnam
© dreamstime
With so much astounding history, culture, and nature, Vietnam is one of Asia's most rewarding destinations. The country encompasses lots of different landscapes, and its idyllic coastline hugs the South China Sea.
Many visitors rent a motorbike and explore the Ho Chi Minh trail. This takes you from the colorful yet chaotic capital Hanoi to Ho Chi Minh city, guiding you past the ancient capital of Hue on the way. Ha Long Bay is another must-see sight due to its stunning seascape and breathtaking limestone islands.
The picturesque coastal town of Hoi An is also well worth checking out, while the hill tribes around Sa Pa showcase some of the nation's cultural and ethnic diversity. Regardless of where you go, Vietnam's fabulous cuisine is sure to be a treat.
7. Jordan
© dreamstime
Due to its strategic location between Africa, Europe, and Asia, Jordan in the Middle East has long welcomed travelers and traders to its lands. Armies also passed through, and over the millennia, rulers and empires left behind crusader castles, Roman amphitheaters, and of course, Petra.
Majestic to behold, the ancient Nabataean city is sure to be unlike anything you've seen before. Set amid the desert and carved out of rock, it is undoubtedly the highlight of any visit to the country.
While Petra is justifiably the main attraction, the Dead Sea and Wadi Rum's desert landscapes are also well worth exploring. The safest country to visit in the region, Jordan's many charms and Middle Eastern hospitality will surely beckon you back in no time at all.
6. Nepal
© dreamstime
One of the best places in the world to go trekking and mountaineering, Nepal is a breathtakingly beautiful country full of amazing scenery. Dominated and defined by the Himalayas, the mountain nation is home to many of the tallest peaks on Earth. Of these, Mount Everest stands head and shoulders above them all.
While many people come to hike the Annapurna Circuit, Nepal also boasts a rich cultural heritage. Centuries-old temples, shrines, monasteries, and palaces dot the country, with Maya Devi Temple in Lumbini being the most famous. It is here that the Buddha was born some 2,500 years ago.
Known as the 'City of Temples' due to its many religious sites, the capital Kathmandu is not to be missed out on.
5. Indonesia
© dreamstime
Made up of more than 18,000 islands that span some 4,700 kilometers from east to west, Indonesiacovers a huge area. As such, the nation is one of the most diverse places on Earth – whether that's in terms of people, culture, and languages or landscapes and wildlife.
In many ways, the archipelago defies definition. For instance, its small, secluded sleepy settlements are in stark contrast to the teeming and chaotic capital of Jakarta. One of the most populous nations in the world, its customs, traditions, and cuisines also vary dramatically depending on where you go.
Lying between the Indian and Pacific Oceans, its islands' habitats are just as diverse. While in Bali you can find beautiful beaches, Borneo has wonderful wildlife and awe-inspiring orangutans. With so much to see and do, the 'Emerald of the Equator' definitely warrants a visit.
4. India
© dreamstime
Home to one of the world's richest and oldest civilizations, India is awash with different cultures, religions, peoples, and traditions. It is this diversity that makes it so mesmerizing to explore.
While the Himalayas dominate the north, steamy jungle, picturesque tea plantations, and gorgeous beaches can be found in the rest of the country. Tucked away among these varied landscapes are millennia-old archaeological sites and colorful yet chaotic cities such as Mumbai and New Delhi.
From temples to cuisine and history to wildlife, the world's second-most populous country has something for everyone. The only question is where to begin.
3. Japan
© dreamstime
Although it consists of almost 7,000 islands, most of Japan's main sights and tourist attractions can be found on Hokkaido, Honshu, Kyushu, and Shikoku. These are the four largest of them.
Lying to the east of mainland Asia, the island nation is a fascinating place as old and new collide wherever you go. While the futuristic metropolises of Tokyo and Yokohama are full of skyscrapers and neon lights, Kyoto and Nara instead boast traditional palaces and age-old temples.
Covered in mountains and forests, the country is also home to some delightful nature and scenery. This explains why the vast majority of its large population is found in the densely populated cities that hug its long and indented coastline.
2. Thailand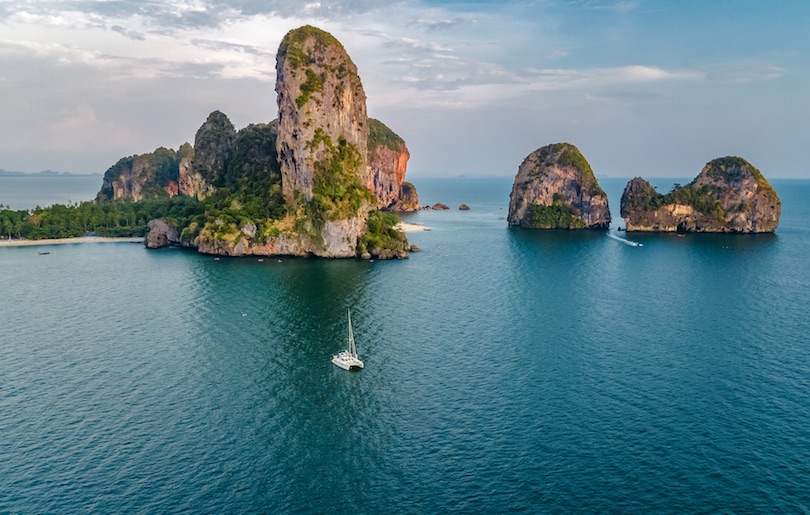 © dreamstime
Thanks to its breathtaking beaches, glittering temples, and welcoming population, Thailand is a very popular tourist destination. Fittingly enough, it is often called 'the Land of Smiles.'
While Bangkok has lots of fantastic cuisine and nightlife on offer, Chiang Mai and Chiang Rai are home to some of the nation's most famous temples. Further afield, you can find wild jungle, picturesque paddy fields, and quiet and secluded towns and villages.
Lying in between the Andaman Sea and the Gulf of Thailand, its golden sands and underwater marvels attract hordes of people every year. Many also come to party in its beachside towns, visit idyllic islands such as Ko Tao, or enjoy the stunning scenery at Krabi.
1. China
© dreamstime
Dominating Asia in terms of both its size and population, China boasts one of the world's oldest civilizations. As such, incredible historical and cultural landmarks are on show wherever you go.
While the Great Wall of China is obviously its main attraction, the Terracotta Army in Xi-an and the Forbidden City in Beijing attract just as many people. Others come to enjoy China's beautiful scenery that includes towering mountains, endless rice terraces, and the desolate Gobi Desert.
The most populous nation on Earth, China is home to many rapidly modernizing cities that are enthralling to visit. Its age-old traditions and customs remain, however. A continent of a country, China and its vast and varied landscapes, cities, and cultures could take a lifetime to explore.