Read Time:
3 Minute, 9 Second
One of the simplest and purest joys in Need for Speed™ Hot Pursuit Remastered is beating your friends. If it happens by pulling a few dirty tricks here and there, that's just part of the fun. The Autolog system – always keeping an eye out to deliver challenges based on your friends' activities – plays an essential role in facilitating this competition.
NFS Hot Pursuit Remastered is a thrilling experience on your own. Competing with your friends takes it to the next level.
Autolog – Connect, Compete, and Compare
Autolog allows you to connect, compete and compare with your friends. A great starting point for connecting with your friends is The Wall. It's a shared messaging system where you can comment, chat, and share pictures taken from within the game.
But it's so much more. On The Wall, you can also post your gameplay performances. Your friends can then start the same event you just posted straight from the messaging system, taking a shot at beating your time.
Autolog constantly listens to what's going on within the NFS Hot Pursuit Remastered network. In simple terms, if a friend beats you, Autolog is going to tell you about it. You'll get personalized, dynamic recommendations delivered based upon what your friends have been doing.
It lays the foundation for an asynchronous way of challenging each other, meaning you don't have to be online at the same time to keep the competition going. Autolog is built to make it easy for you to play and compete on your own terms and schedule.
Race and Escape in Head-to-Head Multiplayer
The adrenaline rush of racing each other live head-to-head is, however, unmistakable. There are several multiplayer modes in NFS Hot Pursuit Remastered supporting up to eight concurrent players, spanning traditional online races to all-out weaponized madness.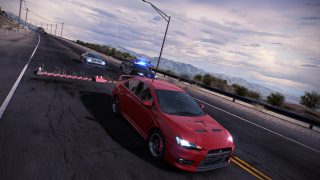 Drop a spike strip to keep pesky chasers far behind.
The explosive dynamic between racers and cops in modes such as Most Wanted will add even more fuel to your heated rivalries. This is where the dirty tricks really come into play. Racers have access to the following gadgets and weapons:
EMP – lock onto the opponent in front of you and shoot an electromagnetic pulse at them, damaging and temporarily slowing them down significantly. If you're lucky, you can even EMP a helicopter.
Spike strip – drop a lethal spike strip from the rear of your car, leaving anyone driving over it damaged and temporarily immobilized.
Jammer – disable the communications and equipment of all cops for a limited time. While active, you will also see any local roadblock marked on your map, close any spike strips near you, and block the lock of an EMP.
Turbo – get an extreme boost of speed to outrun any interceptor on your tail.
Alongside EMP and spike strips, cops are equipped with the following:
Helicopter support – call in a helicopter which will track illicit racers and attempt to stop them with force by dropping spike strips in their path.
Roadblocks – set up roadblocks ahead of you and the racer. If the racer crashes into it, it'll give you an opportunity to move in and bust the suspect.
With Autolog, a long list of supercars to choose from, the option to race on either side of the law, and weapons amping up the heat even more, NFS Hot Pursuit Remastered offers a wide spectrum of opportunities to race, chase and compete your way.
So challenge your friends head-to-head or asynchronously online. Claim your rightful place on top of the leaderboards in racing that is socially competitive at its core. And do it across platforms with cross-play – players on PS4, Xbox One, PC, and Nintendo Switch can all race each other.